Products & Applications
Complete aids to navigation,
ID marking,
work light and aviation lighting solutions
for the offshore wind industry
For over 20 years, Sabik Offshore has been responsible for improving safety, enhancing protection,
giving warning and providing reliable orientation in the harshest offshore environments.
At Sabik Offshore we have dedicated ourselves to designing products and systems specifically for
use in offshore wind farms. We've taken extra care to develop components that are easy to handle,
easy to install and easy to commission.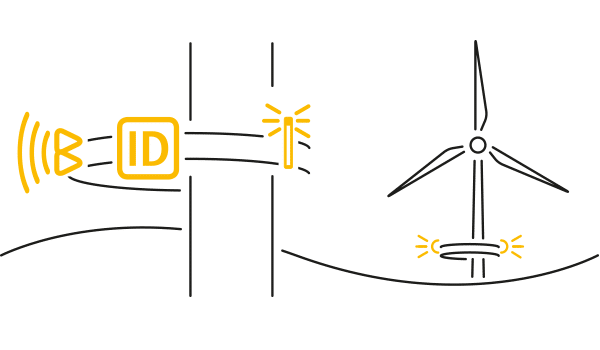 Aids to Navigation
A navigational aid (navaid), also known as aid to navigation (AtoN), is any sort of marker which aids the traveler in navigation.
Marine aids to navigation combine many marking methods such as marine lanterns, ID marking, fog signals, AIS and other complementary lights to ensure safe passage in, around and through an offshore wind farm.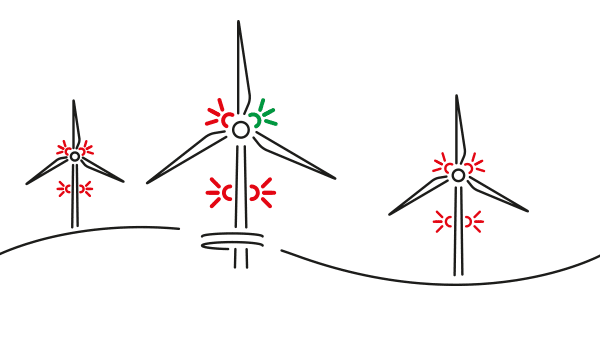 Aviation Lighting
Aviation lights help pilots navigate around and through an offshore windfarm. Standard on all windfarms is a medium intensity red flashing light on the nacelle. If the turbine is higher than 150 meters then low intensity tower lights are added to give the pilot reference on how high the nacelle lights are.
Other aviation lights include infrared lights for pilots using night vision goggles, a green heli-hoist light to indicate that it is safe to commence hoisting operations and in some cases a helicopter corridor light to illuminate the tower along a landing path.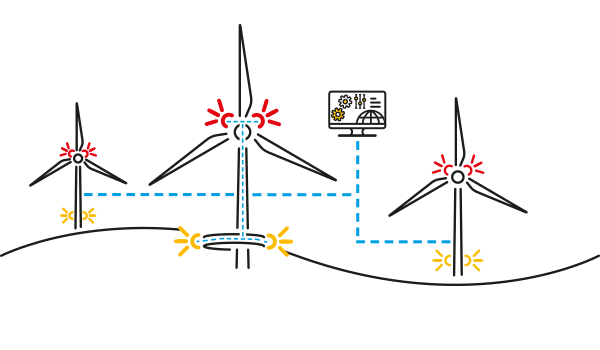 Systems & Controls
The marking components do not work on their own. Instead they are tied into a system to ensure that all the marking methods work together to communicate a single large obstruction. Various components are needed to tie the system together such as control cabinets, SCADA systems and safety devices to ensure continued operation like brightness transmitters and visibility meters.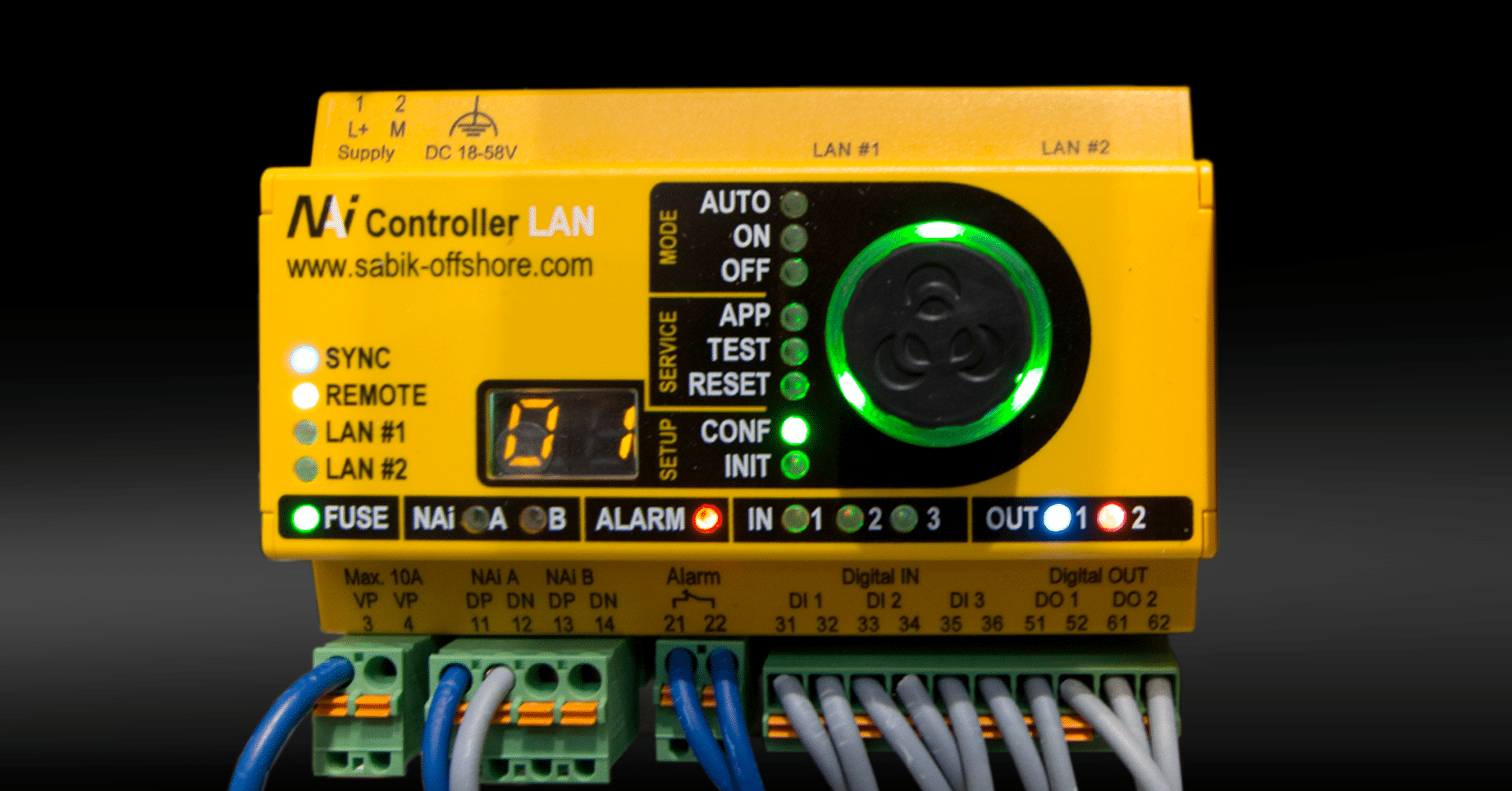 The NAi (Navigation Aids Interface) product family is specifically designed for the navigation lights of offshore wind farms.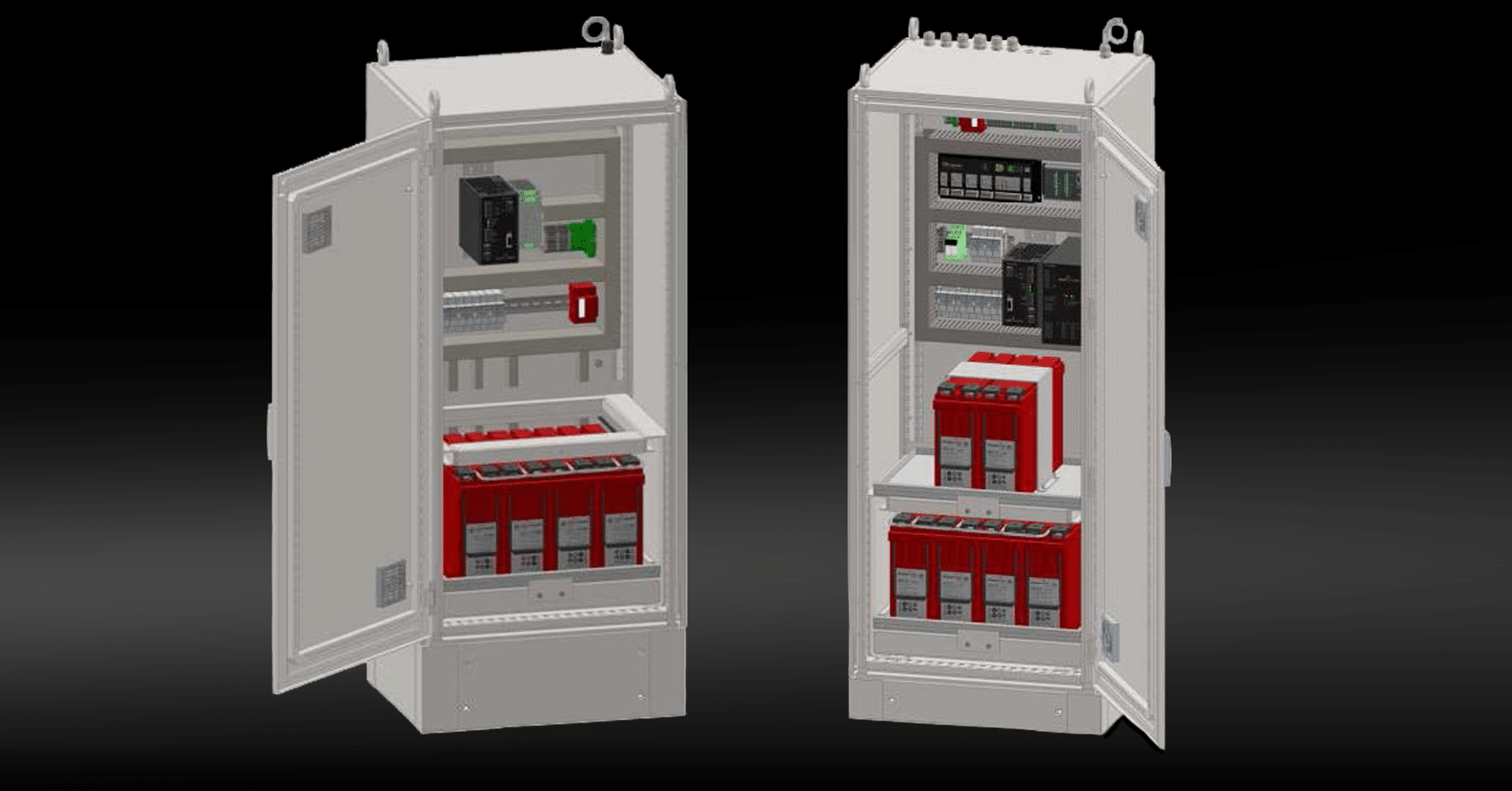 Designed for marine and aviation aids to navigation the Sabik MLCS is the central point for control, monitoring and providing battery back up for all navigational aids.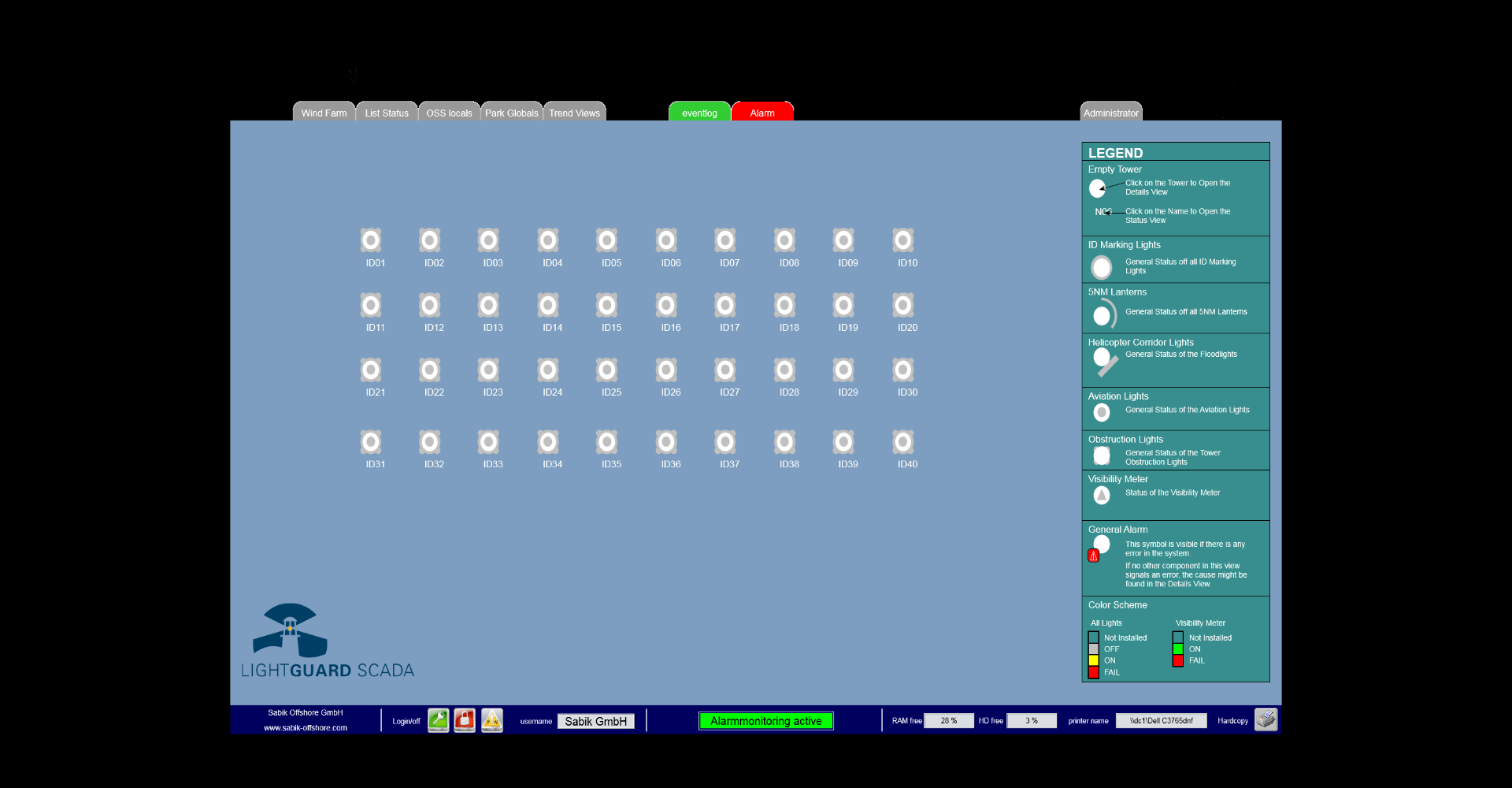 The Sabik ParkMaster SCADA system provides centralised control, monitoring and data logging of permanent aids to navigation marking systems.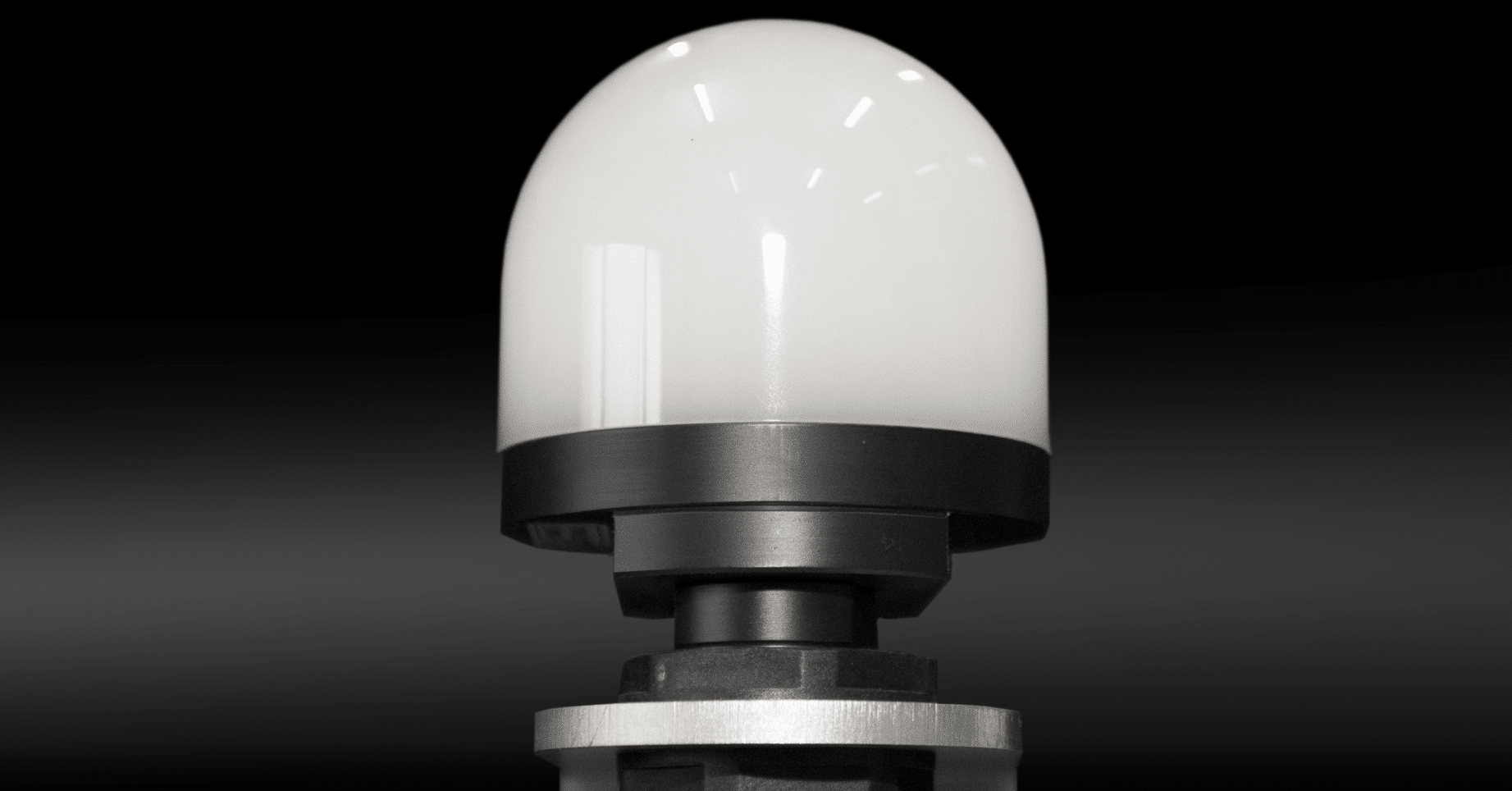 GPS Unit, Brightness Transmitter, Visibility Meter, Aviation Obstruction Light Controller, Monitoring Solution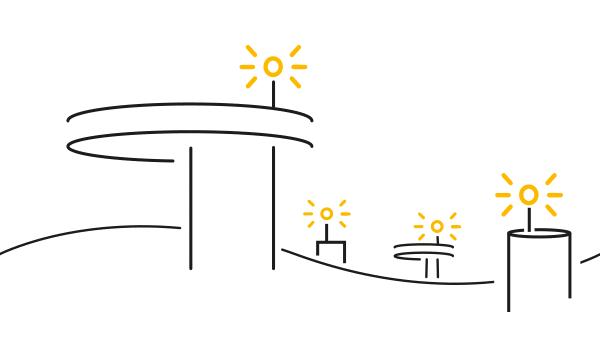 Temporary Marking
Once a structure is in the water such as a foundation or transition piece, it poses a hazard to mariners. Without mains power for the permanent aids to navigation, a temporary light needs to be installed. These lights are self-contained meaning they have batteries and solar panels to ensure continuous operation.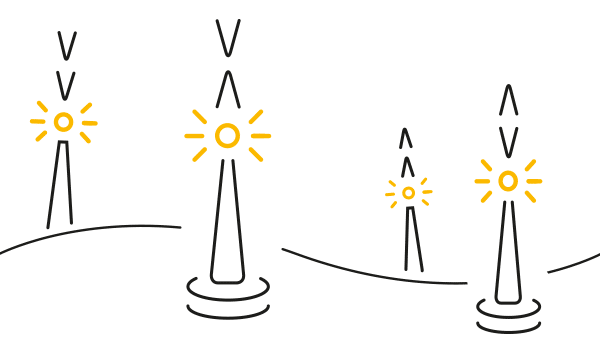 Area Protection
Cardinal buoys and intermediate warning buoys are used to outline the windfarm space to communicate the construction site.